Landscaping in Billerica, Massachusetts

Have your property make a great first impression! For more than 22 years, Elizabeth & Cloves Cleaning has been creating fabulous, eye-catching landscapes in the Billerica Massachusetts areas.
Having a well-landscaped, well-manicured yard, not only adds tremendous aesthetic value to the property but also enhances the property value. No one, including you, wants to see a plain yard with half-burnt grass. The professionals at Elizabeth & Cloves Cleaning can keep your lawn looking green and lush all summer long.
---
Call for a Free Quote
---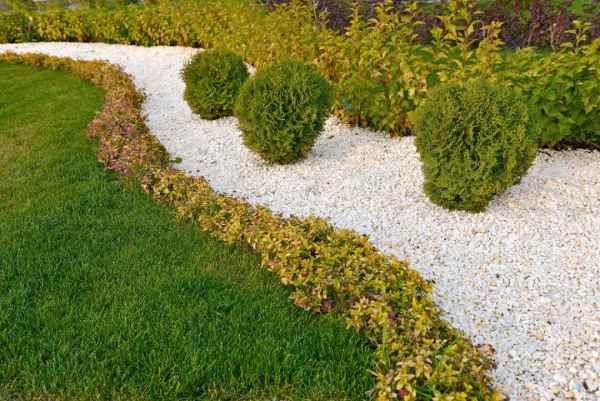 Need some color? Deciding on the plants/bushes best suited for your yard can be a challenging task. Call Elizabeth & Cloves Cleaning to help you select and install the appropriate plants and shrubs fit for your yard.
Hardscaping? Another great option to add tremendous value to your property, and create the "over the top" look. It may be as simple as a fire pit or rock garden, or a little more involved such as a retaining wall or brick patio.
No matter how small, or how great the task, Elizabeth & Cloves Cleaning of Massachusetts is the one to call for all your landscaping needs.
Lawn / Yard Maintenance, Planting, Hardscaping, and much more. Elizabeth & Cloves Cleaning has been creating and maintaining beautiful landscapes in Billerica Massachusetts for 22 years.
Call now for your free estimate.
---
FREE Cleaning Quotes By Appointment Only
---
WHAT CUSTOMERS ARE SAYING:
5★★★★★ - "I am about to have a baby and really needed someone to come in and give a deep cleaning to my house before the big day, and I found Elizabeth and Cloves online with really good reviews. I gave them a call, they were out within a couple of days for a quote for deep cleaning and then were able to schedule pretty quickly after that! They did an AMAZING job!! My house has never looked so clean! They really get into everything and its just so spotless. We are ready to bring a baby into a clean home :) Both Elizabeth and Cloves are super nice and lovely people who you can tell have a passion for what they do. I recommend them 100%.
Thank you both so much :)"

Robin Stratton in Tewksbury, MA

2019-09-16

5★★★★★ - "I highly recommend Elizabeth and Cloves! You could not find a more lovely, hard-working couple. They have cleaned my house for years and I have never been disappointed in their work. They have always been willing to accommodate my schedule and perform something "extra " or special for a holiday or party. If I could give them 6 stars, I would!"

Nancy in Stoneham, MA

2019-08-14

5★★★★★ - "Great Company!"

Anonymous

2019-08-06

5★★★★★ - "Elizabeth and Cloves are extremely hardworking, thorough and consistent. When we bought our home 4 years ago , we were blown away at how clean the house was kept. Elizabeth and Cloves had been cleaning our house for the previous owners for many years, and we couldn't be happier to have them to this day . They are good people, kind and honest and passionate about what they do. I highly recommend their services !"

Rachel in North Reading, MA

2019-06-05

5★★★★★ - "Elizabeth and Cloves have been cleaning our home for 20 years. They are reliable, thorough, professional, trustworthy and kind. They have cleaned our home during the "kids rearing years", "messy teenage bedrooms years" 😳, holidays, staging for our home sale and now empty nester apartment living! They have helped us manage it ALL! I can't say enough about them!"

Patti Genovese in Reading, MA

2019-05-06

5★★★★★ - "5★★★★★ - "Elizabeth & Cloves Cleaning was great! We just moved and had remodeling done and were in need of a really good cleaning. And they provided that! Our house looks great!! I would recommend them to anyone! Thanks again!!" 2019-03-25"

Anonymous, House Cleaning

2019-03-25

5★★★★★ - "Elizabeth, Cloves and their team did a wonderful job to get my house ready for selling on very short notice. They accommodated my time frame and schedule to get the job done and my house sparkling clean. They were professional, diligent and great about communicating with me via email and text. I highly recommend them!"

Anne Price in Winchester, MA

2018-11-08

5★★★★★ - "Elizabeth and Cloves helped us through a very difficult situation with our rental property. They responded immediately and exceeded our expectations. The apartment was totally transformed in one day and on schedule. Customer satisfaction is everything and they know how to achieve it."

Rick in Revere, MA

2018-09-12

5★★★★★ - "Beyond Wonderful! I'm so glad I went with Elizabeth and Cloves Cleaning! My home is sparkling every time I come home! Beyond all my expectations! Highly recommend the services they offer!"

Megan in Wilmington, MA

2018-05-08

5★★★★★ - "Elizabeth and Cloves Cleaning Services does an excellent job. The house is left clean and fresh smelling, especially the kitchen and bath. Their price is reasonable and they are reliable. I would highly recommend them."

Mary Ducey

2018-04-23

5 ★★★★★ - "My home is sparkling Clean--Not sparking! I need to edit more !! Wonderful people and wonderful service !!!"

Anonymous

5 ★★★★★ - "Elizabeth and Cloves have been wonderful, working around my rather odd schedules, and, two pups that want to get underfoot. When they leave , my home is sparking !! They are true professionals ,and, aim to please !!!!"

Polly Sears in Woburn, MA

5★★★★★ - "Cloves and Elizabeth have been cleaning our home and my mother's home for over 15 years and we could not be happier! A very particular neighbor originally recommended them to us when were looking for a cleaning service after my wife's surgery.  Since then they have become permanent part of our home routine.   Through the years Clovis and Elizabeth have adjusted their cleaning schedule to accommodate our travel and work schedules and family events They also provide periodic cleaning services when our rental property is vacated. Anytime we want special cleaning and restoration projects at our home including window cleaning, hardwood floor polishing and spring-cleaning they always do an outstanding job.  The house is always left clean and fresh smelling.   We could not ask for a more reliable, hard working and honest and cleaning company." Gregory Hollebeke"

Anonymous

2016-05-06

5★★★★★ - "Elizabeth and Cloves have been cleaning my home for 16 years!! They are reliable, trustworthy and friendly. I highly recommend them!!"

Ann Catalano

2015-07-08

5★★★★★ - "Cloves and Elizabeth have been cleaning my home for 10 years. I trust them completely in my home, as many times nobody is at home while they are cleaning. They do a very thorough job cleaning my home and they are very flexible if schedule change is needed. I am very pleased with Cloves and Elizabeth and highly recommend them."

Ryan Jennings

2015-07-08

5★★★★★ - "I am happy to recommend Elizabeth and Cloves Cleaning. They do an excellent job, and it is a real treat to come home to a very clean house. We have been customers for over four years. They have never cancelled on us and they are always on time. They have never broken anything, and I have never worried about leaving them alone in my home."

Maura Sweeney

2015-07-08

5★★★★★ - "Elizabeth and Cloves have been cleaning our home for almost three years. They were recommended to me by my sister whose home they have cleaned for over 10 years. They have always been thorough in their cleaning and respectful of our belongings.They have never broken or damaged anything in our home. My family trusts them in our home alone without reservation. There is never a problem if a cleaning time or day has to be rescheduled. They are also friendly, conscientious, reliable and reasonably priced. I highly recommend them and I know you will be very satisfied."

Susanne Flick

2015-07-08

5★★★★★ - "Cloves and Elizabeth have been cleaning our house in Wilmington bi weekly for over 2 years. They are pleasant and thorough. We highly recommend their cleaning service."

Diane Lovine in Wilmington, MA

2015-07-08
---
FREE Cleaning Quotes By Appointment Only
---